NEW PRODUCTS
Stop The Battery Chirping and $40.00 In Battery Replacment Costs!!
10 Year Battery Powered - Smoke Alarms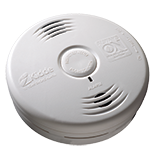 10-year sealed battery smoke alarms (sometimes called smoke detectors) offer a variety of benefits to the millions of Americans who rely on continuous battery-powered smoke and fire detection in their homes. The alarms are powered by sealed, long-life lithium batteries for 10 years (the life of the alarm), meaning they are always on. With a sealed, long-life lithium battery smoke alarm, homeowners can enjoy peace of mind knowing that their homes' smoke alarms are always on – operating 24 hours per day, seven days per week for 10 years – that's a decade of hassle-free protection. The National Fire Protection Association recommends replacing smoke alarms every 10 years.
Contact Dengler Signs Towers & Electric, Inc. for a free evaluation of upgrading or adding smoke and CO2 detectors at your home or business.